Using AI to Reinvent Security Prioritization: Next47 Leads Radiant Security's Series A
Security Operations Centers (SOCs) in most, if not all, companies are constantly overwhelmed by a flood of security alerts. On average, SOCs receive somewhere between 4,500 to 11,000 new alerts per day, but more than 30-65% of them are ignored or false positives[1]. When a cyber-attack succeeds, it is often not because the attackers were sophisticated enough to go undetected, but simply because no one was looking. This is like having 100 CCTV cameras but only having the capacity to successfully monitor a small handful.
The situation is only getting worse, with the demand for cybersecurity growing even faster than the workforce. Despite adding more than 464,000 workers[2] in the past year, the workforce gap has grown more than twice as much as the workforce itself. That's why at Next47, we believe it's time to bring AI into the equation.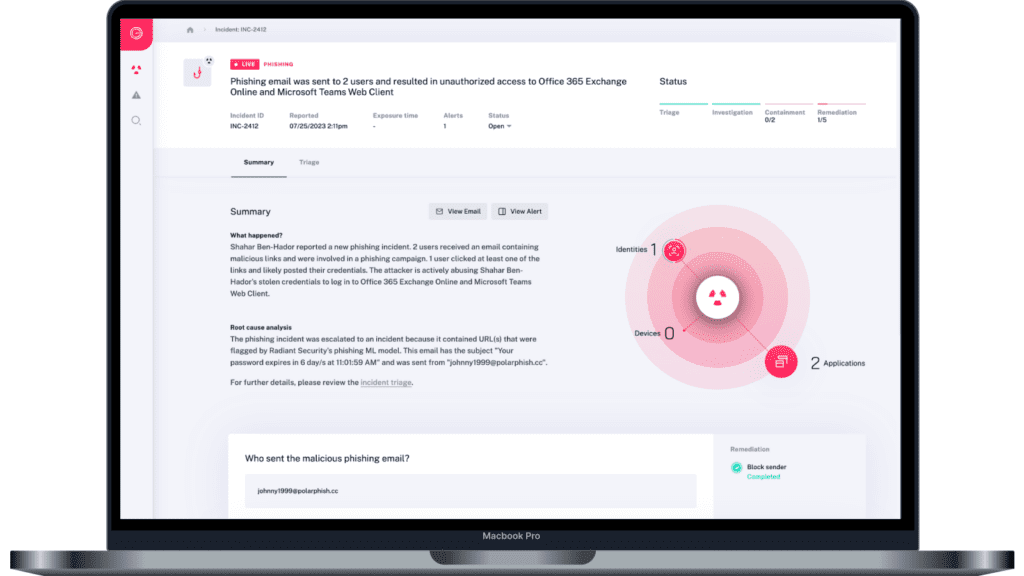 Enter: Radiant Security
Radiant Security offers an AI-powered security co-pilot that automates and streamlines alert triage for SOCs. The company enables security analysts to focus on the most important alerts and respond to them more quickly and effectively.
When we first met Shahar Ben-Hador, the Co-Founder and CEO of Radiant Security, he was clear that as an industry, we have been looking at security the wrong way. The only way to truly mitigate the growing barrage of threats is to triage each one and understand its potential impact and blast radius.
Together, Shahar and Co-Founder Barry Shteiman, former VP of Research & Innovation at Exabeam, leveraged their deep understanding of security threats to build an AI-driven solution that doesn't ignore any threats and escalates the top 5% that need to be addressed.
Today, Radiant Security's AI takes care of as much as 95% of alerts for its customers, enabling them to identify their true threats while having the confidence to know that nothing has been ignored. This is the equivalent of customers having the ability to focus on monitoring the 5 CCTVs that actually show suspicious movement at any given time.
In other words, Radiant Security's AI co-pilot helps businesses focus on the most important threats and avoid being overwhelmed by the sheer volume of alerts.
Radiant Security is enabling a big step forward in companies' ability to defend themselves against cyber attacks. We are excited about the future of AI-driven cybersecurity and are proud to lead Radiant Security's Series A.